Congratulations on your clear aligners! Your new perfect smile is now loading. After probably one of the hardest decisions of your orthodontic treatment process, choosing between clear aligners and our other braces options, you're probably really excited to be making big moves without the common restrictions those other options can bring. And with the discretion of practical invisibility? Dr. Cameron Freelove and his skilled team at Freelove Orthodontics and Smile Design have treated many Kent patients with clear aligners and are still amazed at the experience they provide every time!
We also know that good things can only last if they get the proper care they deserve. That rule also applies to our clear aligners from Spark, Invisalign, and our in-office fabricated Freelove aligners. While the flexibility of removable appliances like clear aligners is one of the biggest perks of this option, they are more likely to harbor harmful bacteria or get lost or damaged, unlike their fixed counterparts. To maintain your clear aligners' optimum condition longer and ward off health complications, here are some of our tips for caring for your clear aligners.
Rinse your clear aligners every time you remove them.
Clear aligners are designed to be removed anytime you eat or drink anything other than water. This means none of your favorite foods or drinks are off-limits like they would be with traditional braces methods. However, this also means you must be diligent in rinsing your clear aligners every time you take them off your teeth and before putting them in their case. Your mouth has numerous bacteria, and each time you wear your aligners, that bacteria comes in contact with them. Rinsing them as soon as you remove them limits the amount of bacteria that may dry into a film and begin to build up and helps prevent the bacteria from transferring to your aligner case. Be sure only to rinse them in lukewarm water as extreme temperatures, hot or cold, can cause your clear aligners to warp.
Maintain Good Oral and Overall Hygiene
Our hands touch everything. With all of the recent talks about not spreading germs, most everyone has become a pro at hand washing to help fight the spread of harmful bacteria. We recommend washing your hands with soap and water for at least 20 seconds before handling your clear aligners. Make sure to focus on your fingernails and fingertips since they'll be in closest contact with your mouth and aligners. When you cannot wash your hands with soap and water, a hand sanitizer that is at least 60% alcohol can be just as effective. 
The next best way to ensure those harmful bacteria are building up or transferring to your clear aligners or their case is to brush and floss your teeth before each wear. Many patients carry a travel case with a toothbrush, some fluoride toothpaste, and a small container of floss or floss sticks for brushing on the go. When you are in a hurry, rinsing with mouthwash can eliminate much of the buildup so that you can wear your aligners as instructed. Just be sure to brush and floss as soon as you can.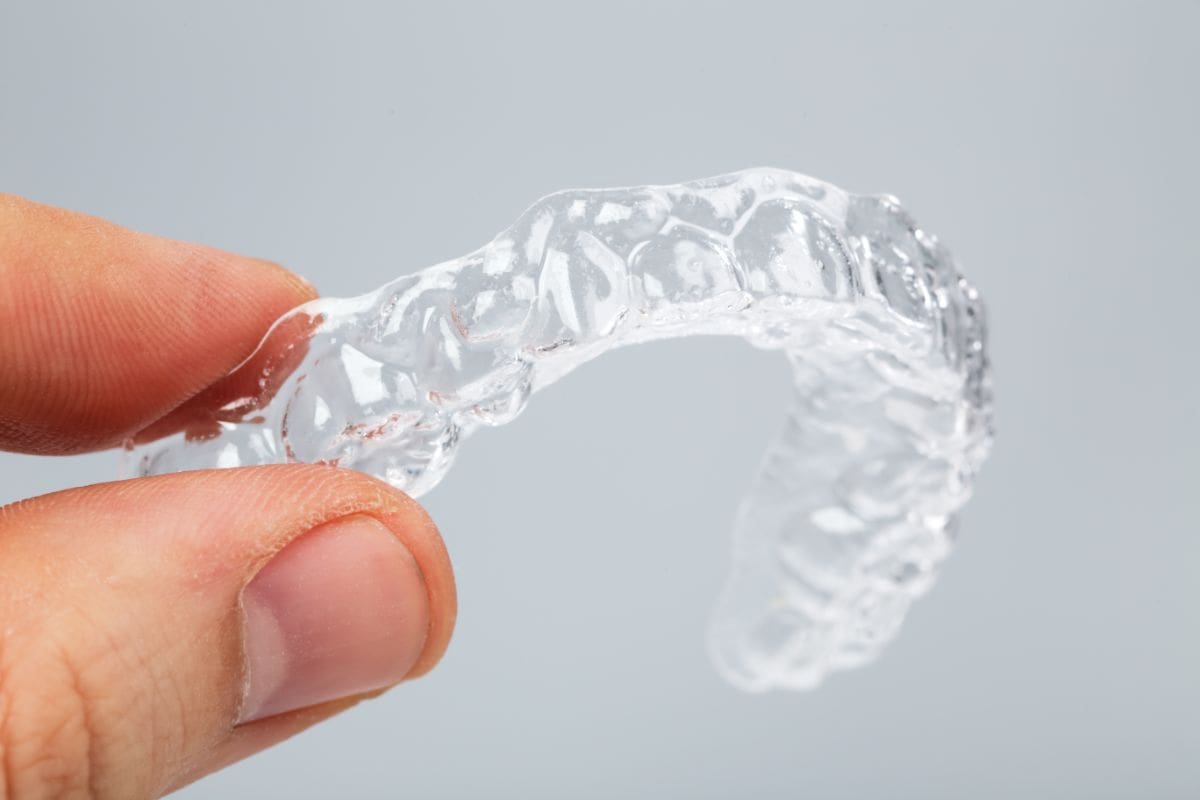 Clean your clear aligners properly
Don't waste all your hard work keeping plaque and bacteria at bay with regular brushing and flossing by not cleaning the acrylic aligners themselves. We recommend cleaning them twice a day, and our patients find it easiest to do while brushing their teeth in the morning and at night. But how exactly do you clean clear aligners? Is rinsing it regularly not enough?
When we tell you not to clean your aligners with toothpaste, it may seem confusing. You brush your teeth with it, and your teeth touch your aligners. What could be the harm? Toothpaste is harsh on plastic and can scratch the smooth surface of your aligners, which leaves tiny scratches and grooves that are the perfect place for bacteria to gather. This abrasion can also make the aligners cloudy and more prone to staining or cracking. Instead, Dr. Freelove recommends using either a tiny amount of clear, antibacterial soap or a one-to-one solution of white vinegar and lukewarm water and brush them thoroughly with a soft-bristled toothbrush. Rinse them and let them dry before putting them back on your teeth.
Keep them safe from the trash, pets, and heat
Making your orthodontic treatment inconspicuous with clear aligners is pretty cool, but it can make keeping up with them challenging. Our team at Freelove Orthodontics and Smile Design team suggests keeping your aligner case with you throughout the day, so you have somewhere safe to keep them when you take them off. It is common for clear aligners to be tossed in the trash or stolen by pets that are attracted to the taste and the chewy texture. Storing them in a case can keep them safe from bacteria, mishaps, and even the sneakiest good dog. 
The next leading cause of damaged or missing aligners is heat. While it may seem like a smart way to save a little time in your dental routine, avoid putting them in the dishwasher to clean them as the water temperatures reach high enough during the cycle to cause the aligners to warp. You can expect the same results with boiling them, so stick with brushing them. Be cautious not to store them in a hot vehicle or in direct sunlight to maintain the structural integrity and your tooth adjustments that Dr. Freelove has planned.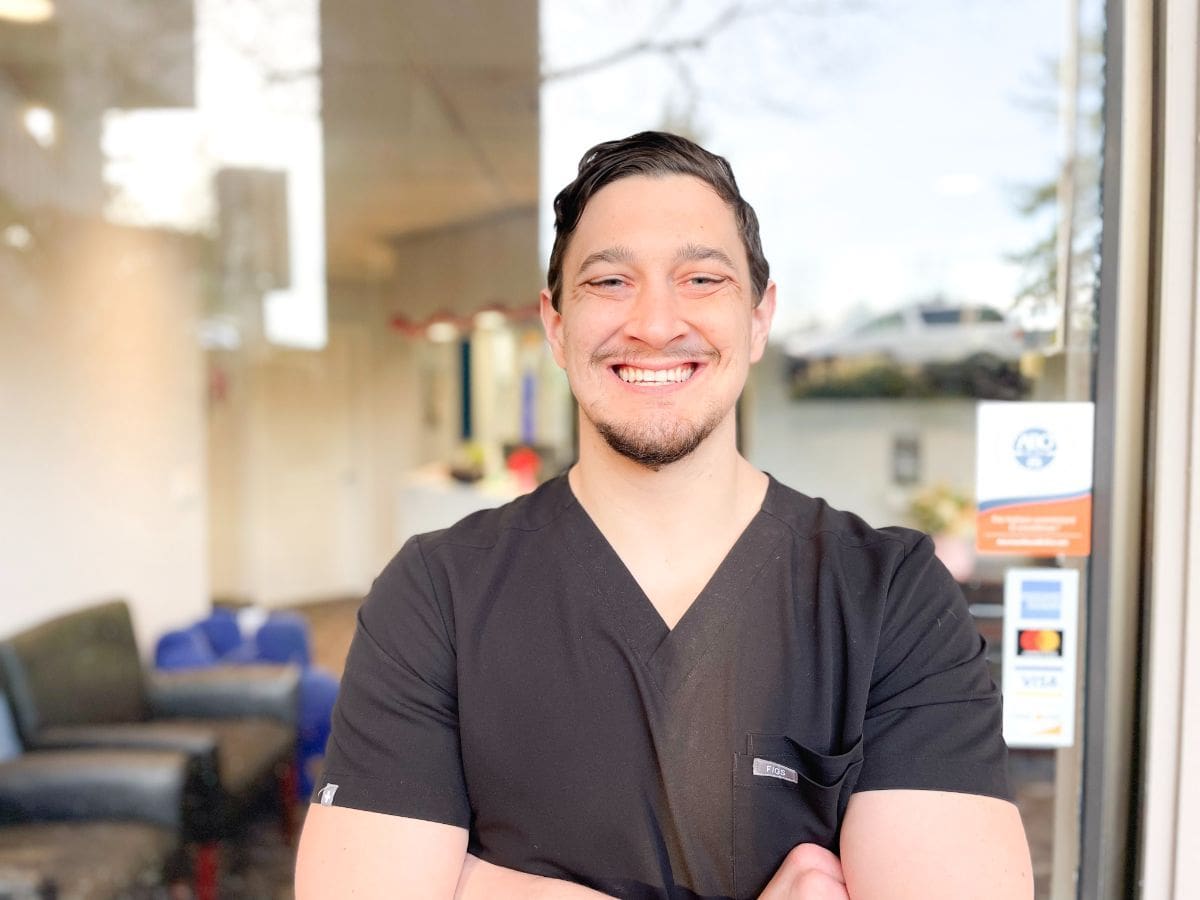 Freelove Orthodontics and Smile Design has all the tips for your orthodontic treatment!
Whether you went with Spark or Invisalign clear aligners, the only way to get the results you are looking for is by taking care of your teeth and your aligners. It won't take long to get your routine down that works best for your daily life. We hope these tips for caring for your clear aligners will help you. If you have any questions or need more help keeping your orthodontic treatment with clear aligners on track, get in touch with our friendly team.
If you're interested in learning more about Invisalign, Spark, or our in-office fabricated Freelove clear aligners to adjust your smile, reach out to Dr. Freelove to schedule your free consultation. Our Kent, WA office is conveniently located, so your orthodontist is never far from home, school, or work. We are excited to make you smile!